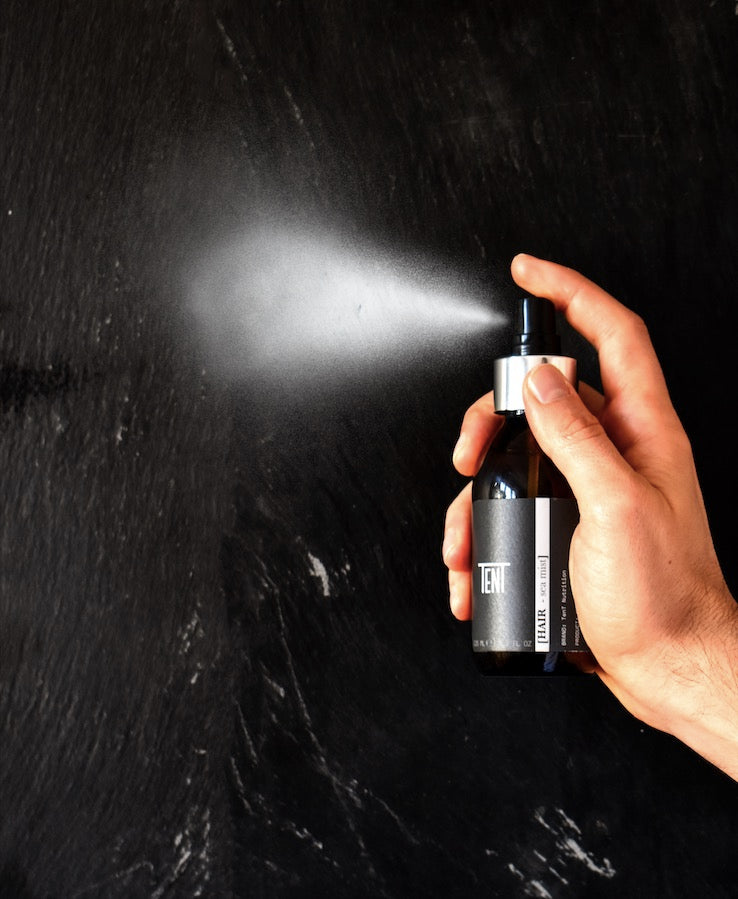 Pretty much of us have been to the beach and played the sea at least once, so we know that great effects that salt water can have on our hair.
But in your day-to-day life you are probably not in the sea every day. So how do you obtain the natural lift that you desire or add life to limp hair?
Plus sometimes simply keeping a steady, thicker, fuller looking hair can prove difficult, this we believe is where TenTs [HAIR-sea mist] comes into play.
[HAIR-sea mist] is designed to create that beach texture and look all year, providing definition, thickness, volume and texture to hair. Ensuring you are able to walk with confidence in your hair.
What is sea salt spray?
Sea salt spray will help you to get that playing on the beach, holiday, in the sun thickness look. The beachy look is created because salt water absorbs the natural oils in hair, which in turn creates a texture, volume and thickness that is not there in your normal life.
[HAIR-sea mist] helps to mimic these results, helping you define your hair grooming routine to add the texture and thickness that is so often missing. Allowing for a more defined and natural style.
What does sea salt spray do?
There are many effects this spray has on your hair. When your hair is limp and flat, then sea mist can add more texture, volume and thickness. 
And besides that your hair will also become a bit cleaner. A sea salt spray absorbs excessive oils from your hair, so your hair will look a bit more matte. That is similar to using a dry shampoo.
You can use sea mist in multiple ways. It does not really matter if you like to style your hair fast and easy or if you prefer to take your time and create a defined look.
The beauty of the spray is that is can be used by itself, but you can also use it as a pre-styler, so you use it before you apply your favourite hair clay, creme or other styling product.
How do you use sea salt spray?
Apply the product with a few spritzes onto slightly damp hair before drying to add real volume and body or apply to dry hair to add some quick texture.
You use your hands or a comb to distribute the product evenly from roots to tips.
Quick tip- the more you add the more your hair will lose natural oils, so don't go overboard with your spraying.
Once you have sprayed sea mist into your hair, you can just let your hair dry without any effort and let the product do its thing to create a messy, relaxed, matte beach look.
Alternatively for a shaper more styled and defined look use a hair dryer to add quick volume and thickness before applying a different styling product
The benefits of sea salt spray:
Absorbs excessive oil for a matte finish.
Can be used as a pre-styler.
Can be used by itself.
It provides a lot of volume.
It provides a lot of texture.
It is easy to use on a daily basis.
Great for those with fine/thin hair