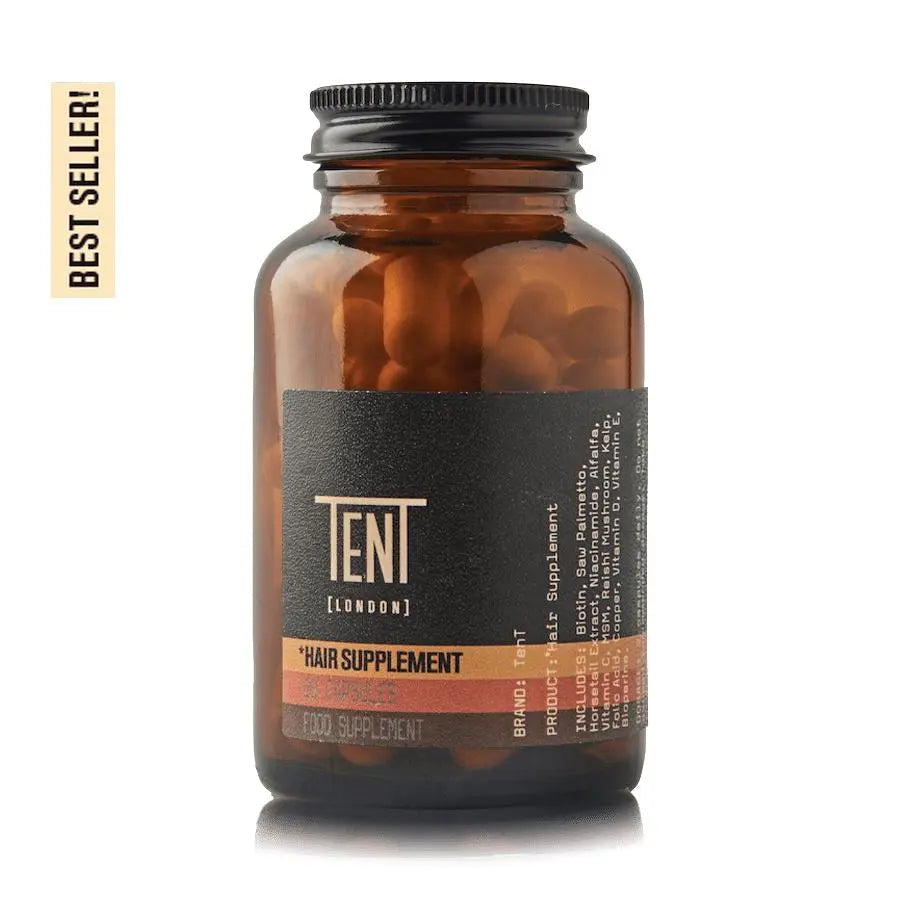 HAIR SUPPLEMENT | THE HAIR THICKENING SUPPLEMENT
"This Has Really Helped. Essentially It's Stop My Hair Loss." 
Revitalise your hair and say goodbye to thinning, weak hair.  
Great, healthy, thicker hair starts from within. Take back control of your hair with our best selling product.
Starting from the roots our high performance drug free super blend of powerhouse nutrients and vitamins injects strength into your hair, to help reduce hair loss, thicken hair and improve your overall hair health.
Made to.
Thicken hair | Reduce hair loss | Revitalise hair | Stimulates hair
---
Active ingredients.
Saw Palmetto, Biotin, Alfalfa, Horsetail Extract, MSM, Reishi Mushroom Extract, Niacinamide, Kelp, Copper, Folic Acid, Vitamins C, E, A & D
---
Size. 
60 Capsules
---
✔️GMO & soy free.✔️no bulking agents or fillers.
✔️vegan friendly.  ✔️free from gluten & diary.  
✔️

100% natural ingredients.  

✔️

made in England. 
---

Key Benefits.
+ Reduces hair shedding and hair loss 
+ Promotes Thicker, Healthier Hair
+ Blocks DHT Production
+ Reduces Hair Greying
+ Helps Moisturise The Scalp
+ Fights Off Free-Radicals
+ Does Not Affect Other Hair Areas Of The Body
+ 100% Natural, No Side Effects 
+ Recyclable Packaging
+ Suitable For All Genders
Designed to transform and thicken thinning hair. Infused with natural ingredients like horsetail extract, biotin, saw palmetto, and other science-led ingredients, these powerful little capsules work tirelessly in reducing hair loss while stimulating the hair from within.
This innovative supplement revitalises dull and lifeless strands by nourishing every strand with essential vitamins, minerals, and nutrients necessary for healthy hair growth.
This supplement focuses on reducing the production of DHT, while strengthening your body's Keratin infrastructure, promoting new cell generation and protecting the scalp.
By combining natural ingredients such as Saw Palmetto, Reishi Mushroom Extract, MSM, Horsetail Extract, Biotin and Folic acid.
After 90 days of use:
(Subjects were a mix of men and woman)
→ 86% reported their hair felt thicker
→ 86% reported a reduction in hair loss
→ 82% reported an improvement in hair growth
→ 77% reported a reduction hair breakage
(Results based on in-house consumer testing)
• 93% of customers repurchase hair supplement
• Take 2 capsules each day.
• Ideally 1 in the morning and 1 in the evening.
86%
Reported their hair felt thicker.
86%
Reported a reduction in hair loss.
 82%
Reported an improvement in hair growth.
DESIGNED TO HELP.
Our best seller for a reason!

---
Join the thousands of men and woman enjoying thicker, healthier hair with our 100% natural supplement.
Pairing together quality proven ingredients to give you the best chance of naturally reducing hair loss, improving hair health and helping thicken your hair, without any side effects.
why not subscribe?
Consistency is key to great results, so with only a 2 order minimum, subscribe and save 20% plus enjoy free shipping.
| ingredients | benefit | result |
| --- | --- | --- |
| saw palmetto (4:1).           | reduces hair loss | reduces DHT production, follice shrinkage and maintains a healthy hormone levels. Extract is concnetrated at a 4 to 1 ratio.                                |
| biotin. | strengthens hair | stimulates and strengthens the hairs Keratin infrastructure significantly reduce hair shedding, breakage and improves hair thickening.                               |
| horsetail extract. | thickens hair | strengthens Keratin infrastructure, improves blood circulation, stimulates follicle growth leading to healthier hair follicles. |
| reishi mushroom extract.           | a powerful inhibitor of DHT | reduces hair loss and protects scalp from ennviromental toxins & free radical damage. |
| niacinamide. | vital in growing long, strong hair | boosts circulation to the hair, enhancing the appearance and feel of the hair.           |
| sea kelp. | regulates hormones, promotes new hair and cell growth | Kelp includes iron, iodine, Vitamin K, Vitamins B, B12, B2 & L-lysine. Working to regulate hormones for help with thinning during menopause, while moisturising the hair and scalp.           |
| vitamin c. | promotes hair growth and reduces hair loss | Vitamin C is shown to significantly improve hair anchoring and strengthen hair.           |
| alfalfa. | boosts collagen production in hair | a 'superfood' that regenerates cells and disrupts the oxidative stress on cell. Boost hair growth and hair health.           |
| msm | reduces inflammation and dandruff | strengthens Kreatin (hair protein), an anti inflammatory and antioxidant that reduces inflammation and dandruff production.           |
| vitamins a, d & e. | prevents follice clogging | creates new follicles, encourages healthy skin cells and fights UV rays, free radicals and pollution. |
| folic acid | important for new cell generation | stimulates the rebuilding of the hair follicle cells, helping rejuvenate shedding areas of the scalp.           |
| bioperine. | significantly improves product absorption | shown to significantly improve the absorption and performance of the supplement.            |
COMPLETE YOUR HAIR ROUTINE.
For the best results why not use this easy 3-step routine that will help you gain back control of your hair. FAQ's
Will hair supplement make my body hairier?

No, the body has two different types of hair, our hair supplement is designed to help head hair and will not affect the hair on the rest of your body.
Are TenT Products Vegan?

Most of our products are vegan.

However our skin product uses Marine collagen peptides and our collagen powder is made from Bovine collagen peptides.

Our capsules are all vegan friendly and TenT does not test on animals.
Are TenT Products Unisex?

Yes, all our products can be used by any gender.
Are There Any Adverse Side Effects?

One of the main reasons we decided to develop a more natural, nutritional solution is because of the lack of side effects.