2 PACK SLEEP-SUPPLEMENT
"So Good, Best Nights Sleep I've Had In Ages."
Why not start every day with a good night's sleep.
We know that sleep is incredibly important and our drug free blend of calming amino acids, vitamins and essential minerals naturally helps you enjoy a deeper, more regenerative sleep.
Our high performance nootropic sleep supplement is designed to help relax your mind and body, assisting you to enjoy the best night sleep possible.  
Made to.
Improve sleep quality | Reduce sleep 
onset latency | Support regenerative sleep
---
Active ingredients.
L-tryptophan

, montmorency cherry, magnesium, hops, lemon balm,

 

L-glycine, L-taurine
---
Size. 
2 x 60 Capsules
---
Our sleep supplement is designed to help relax your mind and body, assisting you to enjoy the best night sleep possible.  
Packed with ingredients that can reduce onset latency for a quicker transition into sleep. Our formula supports the restoration of body functions during sleep – giving you an overall feeling of wellness upon waking up.
With regular use, expect greater clarity of mind during the day as well as improved immune function due to more consistent rejuvenating sleep patterns at night.
After 15 days of use
→ 77% reported reduced morning grogginess
→ 82% felt more rested
→ 82% reported a reduction in sleep onset time
→ 82% felt they enjoyed a deeper sleep
→ 85% felt their general sleep was better
(Results based on in-house consumer testing)
• 81% of customers repurchase sleep supplement
• Take 1 to 2 supplements as needed, 30-90 minutes before bed.
Serving Size 1 Capsule:
• L-TRYPTOPHAN: 220mg
• MONTMORENCY CHERRY: 100mg
• MAGNESIUM (as Citrate): 80mg
• L-GLYCINE: 40mg
• HOPS: 25mg
• LEMON BALM: 25mg
• L-TAURINE: 24mg
• BIOPERINE®: 2.5mg
Ingredients: L-Tryptophan, Montmorency cherry, Magnesium (as Citrate), Hops, Lemon Balm, L-Glycine, L-Taurine, Black Pepper Extract, Hydroxypropyl Methylcellullose (capsule).
Store in a cool dry place out of sight and reach of children. This is a food supplement and not to be used as a substitute for a varied diet. Not top be used during pregnancy or lactation unless recommended by a medical professional.
Please see bottom of the page for references relating to benefits of amino acids on sleep. 
Please also note this is designed to be a sleep aid. If you struggle consistently with extremely poor sleep or are on any specific medication, we recommend speaking with your doctor or medical provider before using.
2 PACK SLEEP-SUPPLEMENT

fall asleep faster
Reduces onset latency time, promoting muscle relaxation, reducing stress and elevating serotonin and melatonin levels.
sleep longer
Encouraging a longer, deeper, more regenerative sleep. By relaxing the mind and reducing anxiety.
wake up refreshed
Promoting the natural sleep cycle and supporting the circadian rhythm, waking up refreshed and non drowsy.
85%
Felt their sleep was better.
82%
Felt they enjoyed a deeper sleep.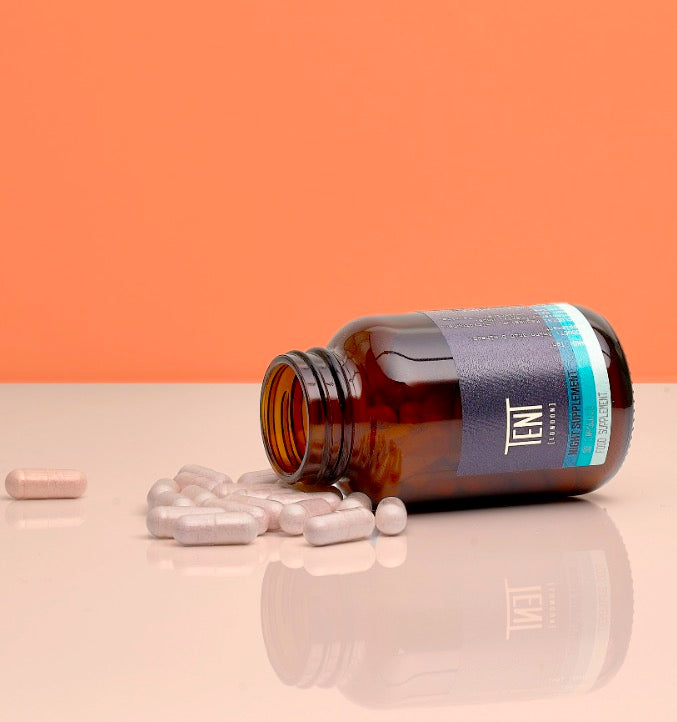 DESIGNED TO HELP.
Join the thousands of people improving their sleep - night after night!

---
Sleep is one of the most important pillars to a healthy life and we think it is unfair for some people to not be able to enjoy one of the most naturally beneficial parts of life.
100% natural made using the finest ingredients to support a deeper, better, more regenerative and restorative sleep, without side effects.
| ingredients | benefit | result |
| --- | --- | --- |
| L-tryptophan.           | promotes sleep & decreases sleep latency | interacts with brain chemicals to help sleep. Converts into 5-HTP to make serotonin & melatonin for a great nights sleep.                                |
| magnesium. | maintains GABA levels to reduce insomnia & restless leg disorder | encourages a deeper, restorative, more sound sleep. Maintains healthy levels of GABA, a neurotransmitter that promotes sleep.                               |
| montmorency cherry.           | natural source of melatonin, to boost more restful sleep | promotes a more restorative, restful sleep & regulates the sleep cycle, leading to improve overall sleep quality & duration. |
| hops. | decreases nocturnal activity | reduces nocturnal activity in the circadian rhythm. Boosts GABA levels to slow down the nervous system, boosting calmness & relaxation.           |
| lemon balm. | reduces anxiety & promotes sleep | reduces anxiety & promote sleep. Paired with hops, lemon balm improves relaxation & induces a restful sleep.           |
| L-glycine. | elevates serotonin & melatonin levels | important amino acids for the body. Elevates serotonin & melatonin, reducing symptoms of insomnia & improving sleep quality.           |
| L-taurine. | increases relaxation & allows body to naturally turn off | reduces cortisol levels & increases levels of GABA. Shown to help carry Magnesium across the blood brain barrier for further relaxation.           |
| bioperine. | significantly improves product absorption | shown to significantly inprove the absorption and performance of the supplement.            |